Designed With Purpose: Understanding Fertility Awareness & NFP
All single, engaged, or married couples 21+ are invited to learn more and ask questions about Fertility Awareness & Natural Family Planning (NFP), the science that supports it, and why the Church teaches NFP is morally acceptable. 
Find answers to important questions about…
What is Fertility Awareness & NFP?
What are the various methods of Fertility Awareness & NFP
Why is Fertility Awareness & NFP important to women, couples, and the Church: the blessings and challenges
Resources to learn more and take the next step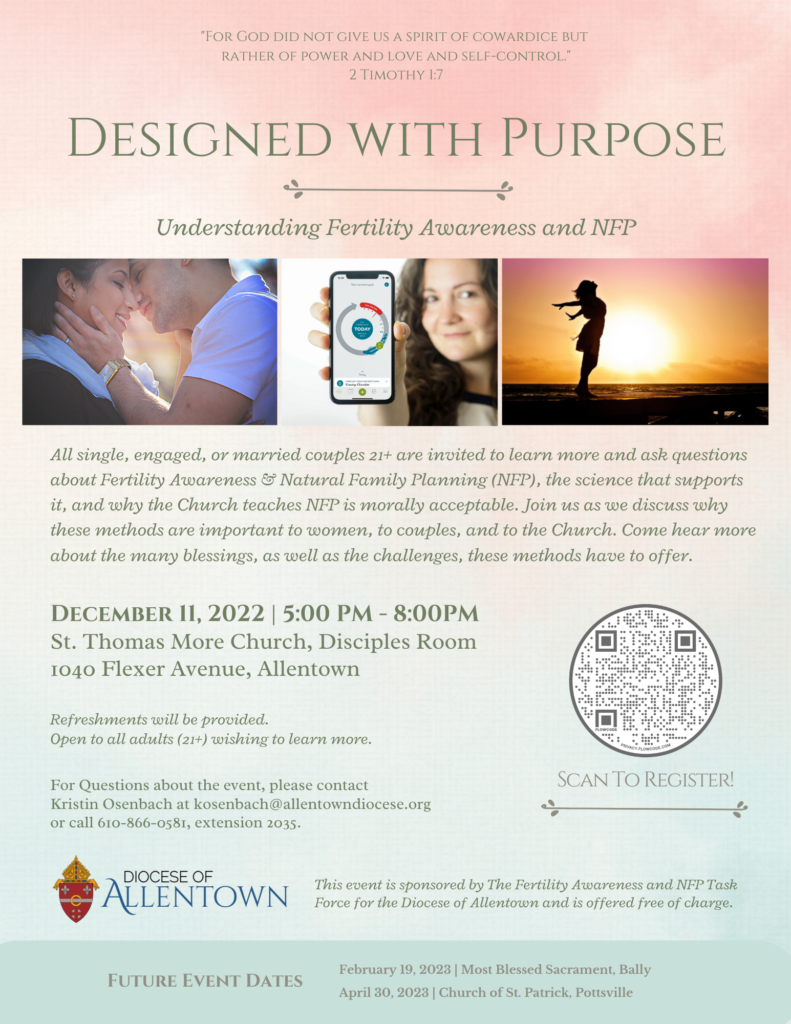 Refreshments will be provided.
 Sponsored by The Fertility Awareness and NFP Task Force for the Diocese of Allentown
 Date & Time: Sunday, December 11, 2022, 5:00-8:00pm
 Location: St. Thomas More, Discipleship Room, 1040 Flexer Avenue, Allentown
 Cost: free
 Audience: 21+ (Open to all adults wishing to learn more)
Future Dates: Most Blessed Sacrament, Bally, February 19; Church of St. Patrick, Pottsville, April 30)
 For questions or more info: Kristin Osenbach, kosenbach@allentowndiocese.org, 610-866-0581 x2035
Registration below is required below by December 5.